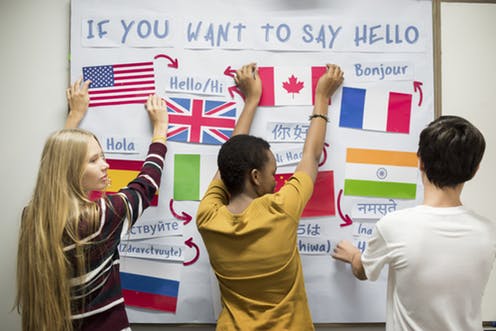 Bilingual / ESL / World Languages Overview
Bilingual & English Language Learner Programs: Support = Success
Clifton Public Schools provide programs of developmental English instruction for students needing assistance with learning English. Our programs are aligned with the New Jersey Student Learning Standards (NJSLS) and with WIDA English language development standards. They are designed to assist students in mastering the English language by emphasizing speaking, listening, reading, and writing skills and to prepare students for future academic studies in English. Our Bilingual and ESL teachers have received training in SIOP (Sheltered Instruction) strategies. ESL Resource Teachers provide district-wide support to all teachers of current and former English learners.

Clifton's K-5 Programs
Clifton currently offers bilingual instruction and English as a Second Language (ESL) classes for students who speak both Arabic and Spanish languages. Elementary Schools 12, 13, and 17 are home to our Spanish Bilingual programs, and School 14 houses our Arabic Bilingual program. Students who speak languages other than Spanish and Arabic benefit from ESL classes and Sheltered Instruction at these same schools. All English learners receive support from certified bilingual and/or ESL teachers.

Clifton's 6-12 Programs
English learners in grades 6-12 participate in Clifton's high-intensity ESL programs with Sheltered Instruction. Both Christopher Columbus Middle School and Clifton High School provide these services to English learners. At Christopher Columbus, English learners receive a minimum of two periods daily of English language instruction in the content areas. At the high school level, students receive either two or three periods of English language instruction. Students are further supported by general education teachers who implement Sheltered Instruction strategies in their classes.

In addition to the programs provided during school hours, all schools offer after school tutoring for English learners. Students in all grades can also take advantage of the one-month ELL Summer Enrichment Program. High school English learners have the opportunity to visit the Teen Center for additional support during the school day. Services include peer tutoring, assistance with translations, homework, and classwork, as well as employment coaching.

Clifton's World Language Program: ¡Bienvenidos! Bienvenue! Benvenuto!
Clifton Public Schools are proud to provide world language instruction beginning in kindergarten. The Spanish language is offered weekly, in grades K-5, with kindergartners and first graders participating in the Salsa Spanish curriculum. In second through fifth grades, students continue to participate in engaging Spanish lessons where they learn the basics of the language while learning about the diverse cultures of the Spanish-speaking world. Students then have the opportunity to select Spanish or French as a cycle class, beginning in grade 6, at both of our middle schools, and continue to study that language for the duration of their time in the middle school. At Clifton High School, students can choose to continue their French or Spanish studies, or they may choose to study the Italian language. Additionally, native Spanish speakers may enroll in the Spanish for Native Speakers class. Students who enroll in Level IV classes can also receive college credits for world language classes taken at CHS through the Middle College Program, a program offered by Farleigh Dickinson University.

Our goal is for Clifton students to be able to communicate, in real-life settings, in the language that they are studying, while learning about the diverse cultures of countries where these languages are spoken. Student-to-student and teacher-student interaction in the language being learned is key to our approach.

Seal of Biliteracy: A Special Recognition for Bilingual Students
Clifton High School offers the opportunity for all bilingual and multilingual juniors and seniors to obtain the prestigious Seal of Biliteracy insignia on their high school transcripts. To receive this accolade, students must show their proficiency, in a language other than English, on rigorous speaking, listening, reading, and writing exams. Students must meet the English Language Arts graduation requirements to receive the Seal of Biliteracy.
Contact
Supervisor of Bilingual/ESL/World Languages (K-12)


Alicja Banning
ABanning@cliftonschools.net
973-470-2267


Prestgious Seal of Biliteracy School


Global Seal of Biliteracy School