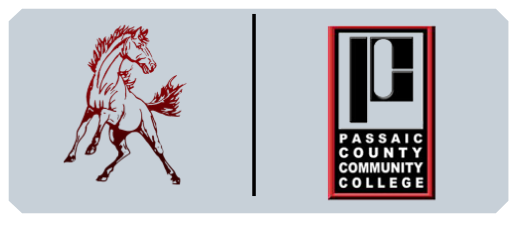 Passaic County Community College (PCCC) Concurrent & Dual Course - Senior Program Overview
PCCC programs enable qualifying high school senior students to earn an Associate's Degree at Passaic County Community College while still completing their high school course of studies.

Concurrent Courses

Concurrent enrollment classes take place at Clifton High School during the normal school day. Classes are taught by master's level teachers of Clifton High School who have been qualified by PCCC to do so. This is the most economical option for students and their families to earn college credits. Courses run the entire school year, from September through June.

Dual Enrollment Courses

Dual Enrollment takes place at Clifton High School, not during regular school hours. Qualified juniors and seniors are afforded the opportunity to participate in these classes that are taught by college professors. Dual Enrollment courses run on a semester basis, so the pacing and rigor are similar to those offered on campus. Students must take 2 courses - one in the Fall semester and the sequence class in the Spring Semester. The courses will weigh as AP courses on their high school transcript.

Qualifying students:

Must be senior grade status
Must meet qualifying GPA
PCCC 30 credit - 90 or above
Dual enrollment GPA is dependent upon the class, required GPAs for each class can be found on the application
Must complete an application and submit it to their counselor
Will be responsible for their own transportation, as needed

FAQ

Q. What courses can I take?
A. For the 30 Credit PCCC program, students will meet with the PCCC coordinator, Mr. Lopez, to schedule courses. For the Dual Enrollment courses, students can select from the course scheduling sheet or application.


Q. How will I get billed for my classes?
A. Students will be billed by PCCC and will have to pay them directly through the directions provided on the bill.


Q. How do I obtain an official transcript from Passaic County Community College?
A. The student will request a transcript through Passaic County Community College and request that it is sent to the school you are attending. PCCC Transcript Request

We utilize the collegeboard conversion scale in order to ensure consistent and fair grading throughout all of our college programs. Click link for the chart.
Passaic County Community College (PCCC) Concurrent & Dual Course - Senior Program FAQ Video