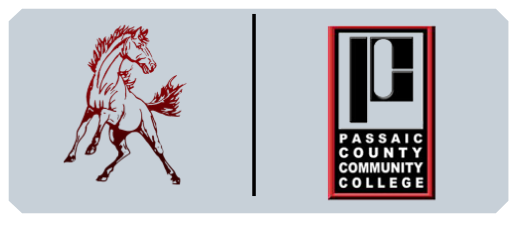 Passaic County Community College (PCCC) Early College - Junior Program Overview
Qualified juniors can earn an associate's degree while attending high school in their junior and senior year. Students will spend half their day at Clifton High School and the remainder at PCCC's campus taking classes that fulfill both high school and college degree requirements. Participation in this program provides students with an opportunity to get a head start on their college career, experience an enhanced and challenging level of learning, and access to on-campus resources like a typical PCCC student. Courses taken through the college will weigh as AP courses on their high school transcript. Students will graduate their senior year with a high school diploma AND an Associate of Arts degree!

Qualifying Students:

Must have an 85 cumulative GPA (calculated mid-year of your sophomore year)
Must complete application
Must pass Accuplacer test or equivalent as determined by PCCC
Will be offered transportation to and from PCCC campus
Must abide by PCCC COVID protocol.

FAQ:

Q: What courses can I take?
A: Courses are selected in collaboration with PCCC staff.


Q: How will I get billed for my classes?
A; PCCC's Bursar office will bill you every semester. These payments can be made directly through the student's portal.


Q: How do I obtain an official transcript from Passaic County Community College?
A: Students will request an official transcript directly from PCCC, PCCC transcript request


Q: Can I still partake in athletics and/or extracurricular activities?
A: Yes. Students participating in the program will return daily from PCCC in time to participate in any clubs, sports, or other activities.

Contact

Rachel Fabrykant. School Counselor - rfabrykant@cliftonschools.net - 973-470-2321
or
Meaghan Conti, Vice Principal, mconti@cliftonschools.net - 973-470-2319

We utilize the collegeboard conversion scale in order to ensure consistent and fair grading throughout all of our college programs. Click link for the chart.