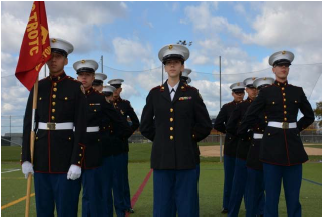 Marine Corps Junior ROTC Overview
The purpose of the Clifton High School Marine Corps Junior Reserve Officer Training Corps (MCJROTC) program is to instill in students the values of citizenship, service to the United States, personal responsibility and a sense of accomplishment. It does not seek any particular commitment to the military.

The major objectives of the MCJROTC program are:

Develop informed and responsible citizens.
Strengthen character and leadership skills.
Inform cadets about the role the U.S. Marine Corps has played in American history.
Enhance cadet knowledge of world geography.
Teach the fundamentals of close-order drill and uniform regulations.
Improve physical fitness.

Please take a look at our informational web portal for full details about the MCJROTC program.
Contact
Senior Marine Instructors

CWO2 Alex Navarro - USMC (Ret)
anavarro@cliftonschools.net
(973) 470-2310

---

Gunnery Sergeant Eduardo Lujan
Elujan@cliftonschools.net