Return to Headlines
Clifton voters will determine school improvements April 20
Clifton voters will determine school improvements April 20
With a unanimous decision on January 21, the Board of Education took action to put a school improvement plan on the April 20 ballot for a public vote. The plan would improve safety, efficiency, and modernization for every school in the district and capture nearly $55 million in state funding towards the costs.
The Board's action revived an effort that was started in 2019 and reflects a big-picture, long-range approach to providing what Clifton students need to learn and what facilities need to be safe, modern, and financially efficient.
"Board members and school staff considered what kind of school quality our community wants," said Superintendent Dr. Danny Robertozzi. "This proposal is about One Clifton, with all of its parts working together. Our school district benefits from its strong community; our community benefits from the strength of its schools."
With community input through a strategic planning process and with guidance from professionals outside the district, a plan emerged to ask voter permission to borrow $168 million so critical needs could be met in the next few years. The vote was originally planned for September 2020.
"COVID delayed that, but there's light at the end of that tunnel," Dr. Robertozzi said. "Meanwhile, our old buildings are getting older."
This broad plan requires voter approval to borrow for these changes because that would open the door to state funding that we cannot get any other way. Clifton voters will decide whether to allow the district to borrow money – through the sale of bonds – and pay that back over 25 years. It's similar to the way a homeowner uses a loan to replace a roof or renovate a kitchen. But in Clifton's case, bond borrowing will qualify for more than $55 million in state help to pay the costs.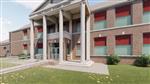 What do Clifton schools need?
The Clifton school district includes 19 buildings that have all been well maintained, but they – and their equipment – are old. Repair costs are increasing, and inefficiencies strain the operating budget. Almost all bathrooms are in need of renovation; some are original to 100-year-old buildings. Some heating/ventilation equipment is more than 60 years old, far beyond its recommended lifespan. All of our schools should have modern security measures such as enclosed security vestibules and improved security cameras. The total cost is expected to be about $168 million, with state aid to reduce that by about $55 million. Spread over time, it's estimated that the owner of a home assessed at Clifton's average would pay about $17 per month for these necessary and significant investments.
Why do we need to act now?
The BOE has been conscious of taxpayer commitment but has delayed improvements as long as possible. Meanwhile, the pandemic has proven not to be a short-term struggle. The public health crisis has pushed our goals from a vote planned for September 2020 to a new date of April 20, 2021.
"That new date sets us on a timeline to have the work done by the end of 2023," Dr. Robertozzi said. "We can see the potential for COVID to be under control, and we can't put this off any longer."
What is the next step?
The Board's approval will kick off a large-scale plan to inform voters. February and March will be filled with opportunities for Clifton residents to learn more and to make plans to vote. With many ballots expected to be mailed by the end of March, the actual process of voting will be spread over 3-4 weeks. At this time, we expect the state will follow its previous practice of requiring at least some options for in-person voting on April 20.
The best ways to stay informed will be to make regular visits to www.clifton.k12.nj.us/vote and to follow the district's social media accounts. Those sources will include the most accurate and up-to-date information and will include helpful reminders about opportunities to learn more and how to vote.