Return to Headlines
CHS Senior Filmmaker's Film Accepted into Passaic County Film Festival
Clifton High School Senior and Aspiring Filmmaker headed for the Big Screen
CHS Senior Filmmaker's Film Accepted into Passaic County Film Festival
CLIFTON, N.J. –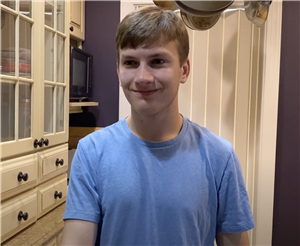 Ever since seeing the 1971 classic, "Willy Wonka and the Chocolate Factory," as a little boy, Max Rubin was intrigued by unique stories and intricate worlds expressed through film.
Inspired by the experimental filmmaker Don Hertzfeldt, the Clifton High School senior was captivated by Hertzfeldt's dreary, psychological yet straightforward cinematic approach and utilized similar concepts for his own animated film, "I'm Angry."
"Unlike most of Hertzfeldt's films, 'I'm Angry' is partially animated and partially live-action. I wanted to create something unique that took inspiration from other sources while still maintaining my distinct voice and style," explained Rubin.
Following Hertzfeldt's lead, Rubin's film, "I'm Angry," the story of a teenage boy named Manny Mason, was picked up by the 2021 Passaic County Film Festival.
Jason Leshowitz, Supervisor of Visual and Performing Arts at Clifton Public Schools, noted, "Max is one of only 16 teenagers in Passaic County to have his film accepted into the Festival. This is a huge accomplishment for Max, and we couldn't be happier. His film's acceptance into this film festival is a well-deserved honor for all of his hard work and effort."
Max and his family were overjoyed with the news that "I'm Angry" was selected for the Festival. Besides the CHS Cast film festival, the Passaic County Film Festival will be Rubin's first film festival.
"I get a lot of help from my family," said Max. "Both my mom and dad help operate the camera and act in my films. My 7-year brother, Gabriel, has a major role in one of my other dramatic films, and he does a fantastic job, by the way."
Max's father, Josh Rubin, is a professional guitar player and performs most of the music in his son's films.
"During productions, my dad and I collaborate for hours each night to come up with the perfect melodies to incorporate into each film I make."
Rubin credits his CAST teachers at CHS, Mr. Dixon and Mr. McCunney, for much of what he has learned, adding that the two teachers ignited his enthusiasm for creating unique, original films.
"I especially enjoyed collaborating with other students in the CAST program. The CAST program students are all very hardworking, and I am lucky to be working with them on the CHS Morning Show."
CHS CAST teacher, Michael McCunney, was thrilled for his student. "I'm so happy and excited for Max. He is incredibly creative and has worked so hard to bring his ideas to life in his films. He has produced some great projects during his three years in CAST. I'm really looking forward to the Passaic County Film Festival and seeing his film up on the 'big screen.'"
Rubin plans to study film in college and has been accepted into Mason Gross School of the Arts (Rutgers New Brunswick), Hofstra, Pratt Institute, and Marist.
Superintendent of Clifton Public Schools, Dr. Danny Robertozzi, said, "While we are unbelievably proud of Max's accomplishment, the news comes as no surprise. Max demonstrates confidence, hard work, and creativity in all that he does for our schools and our community, from speaking at every Board of Education meeting to providing valuable input and insight for school matters. It also speaks volumes about our CAST program and the real-world experiences our students receive when attending Clifton Public Schools. Personally, I can't wait to break out the popcorn to watch Max's film."
Max's films are a mix of drama and comedy. His dramatic films are about general fears or negative emotions.
"Through film, I illustrate how I handle these fears and negative emotions or how other people may handle such emotions. I use lots of insane imagery and visual metaphors to tell my stories," said Rubin.
Regarding his comedies, Max clarified, "I don't necessarily have a specific style for comedy yet. If I were to sum up my comedic work so far, I would say it mostly consists of over the top and crazy yet loveable fictional characters with no filters."
To see Max's work, visit his website at cooljuicefilms.com or his YouTube Channel at https://www.youtube.com/channel/UCsycNqP9sdS18cB4H8h8MXA/featured
In true Academy Award style, Max wanted to thank the following people, "I am looking forward to whatever comes next in my journey as a filmmaker. Thanks to everyone who helped me out and believed in me over the years: Dad, Jackie, Mom, Gabriel, Uncle Tony and Aunt Bunny, Grandbon, Jim, my teachers, and my good pals Jesse, Lucius, Asher, Sunny D., Mikey D., Nasjan, Ian, and everyone in the wonderful CAST program at CHS!"
The Passaic County Film Festival is on Saturday, April 24 at 7:00 pm at the Passaic County Preakness Valley Golf Course, 209 Totowa Road, Wayne, NJ. Reservations are required. For more information, please go to
https://www.passaiccountynj.org/government/boards_committees_and_commissions/film_commission/passaic_county_film_festival.php