Return to Headlines
Take Time to Smell the Flowers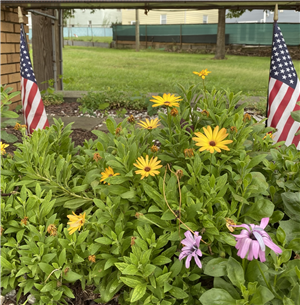 There's an old saying for those of us caught up in the hustle and bustle of daily life that reminds us to "take time to smell the flowers." While the expression may seem cliche, a 2012 study found that "appreciating the meaningful things and people in our lives may play an even larger role in our overall happiness than previously thought." (https://greatergood.berkeley.edu/article/item/a_scientific_reason_to_stop_and_smell_the_roses)
And that is precisely what Clifton High School custodian Maria Rado set out to do before the 2021-2022 school year began. With her own money and donations from her neighbor's church, Ms. Rado planted dozens of floral arrangements outside Clifton High School. As staff and students returned to CHS this September after long months of isolation and in the wake of a destructive hurricane, little pockets of brightly colored flowers greeted them in almost every corner of the campus, thanks to Ms. Rado.
"Flowers are one of my passions," explained Rado. "Their unique beauty has always fascinated me. My intention was to promote positive vibes to all, especially after this past stressful pandemic year. I think we all need a smile on our faces, and looking at beautiful flowers will give that positive vibe."
Ms. Rado's work has certainly not gone unnoticed. The CHS secretaries, observing Rado's daily work and enjoying her beautiful plants, were delighted to spread the word about the generous work of their colleague.
Upon learning of her kind gestures, Clifton High School Vice Principal Victoria Rogers said to Ms. Rado, "We have all noticed, and I just want to be sure to give credit where credit is due! I want to thank you for all that you do to make our school look amazing each day."
Rado has helped Clifton High School Vice Principal Timothy Wacha, who worked with CHS students to clean up the Peace Garden and campus last year. When asked about Ms. Rado's additional planting on her own time, Mr. Wacha said, "She goes above and beyond for the school and is an essential part of Clifton High School."
CHS principal Ahmad Hamdeh agreed wholeheartedly. "She is a staple in the building and is caring and compassionate."
Rado said that her passion for flowers comes from her great-grandmother. She hopes that her flowers will continue to grow and intends to build them up year after year.
"It is my pleasure to help beautify the school, and I hope this little bit will help to do that," remarked Ms. Rado.
The next time you're taking a stroll around the Clifton High School campus, take time to smell - and appreciate - the flowers. You may just feel a little happier, and if you're lucky, you might catch Ms. Rado adding another splash of beauty to the CHS campus.
(Written with contributions from Alexander Grillo, CHS senior)
---