Return to Headlines
CHS Student Liam Reilly Becomes an Eagle Scout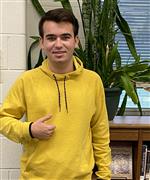 CHS senior, Liam Reilly, has accomplished an extraordinary feat by ascending to the rank of Eagle Scout in the Boy Scouts of America Association.
At a young age, Reilly, inspired by his father, David Reilly, who became an Eagle Scout when he was younger, decided to become involved in scouting. Drawn to the concepts of character, compassion, and moral values, Liam has always held becoming an Eagle Scout in high regard. As an Eagle Scout, he would join the ranks of his father, numerous United States astronauts, former US Presidents, and countless other esteemed officials.
Liam joined the Cub Scouts in first grade in 2010, a journey that saw him through to high school. Through scouting in Troop 23, Liam made several friends with other scouts from Clifton, including Luca Kolessa and fellow Eagle Scout Santiago Bermudez.
Liam installed Buddy Benches at Clifton Public School 14 for his final Eagle Scout Project. The idea stemmed from other schools that had Buddy Benches on their playgrounds. Assisted by his father and School 14's Principal Jason Habedank's approval and help, Liam built and installed the Buddy Benches. Liam recalled his experiences trying to develop friendships in elementary school and wanted the bench to have meaning. He hopes that students can overcome the obstacles of feeling alone and even prevent children from being bullied.
Liam's philosophy, while simply stated, is quite significant. "Never stop trying, keep going even if things are tough. It can only get better. Even in times of trouble, everything will all turn out ok."
Dr. Danny Robertozzi, Superintendent of Schools, stated, "Liam is an extraordinary student and member of our community. His hard work and dedication to his project and, in essence, to the children of Clifton Public Schools, will leave a message of compassion and goodwill for generations to come. Thank you, Liam, and congratulations on this outstanding achievement."
In addition to scouting, Liam is a cellist in the CHS orchestra and the New Jersey Symphony Youth Orchestra. Liam is a member of the Future Teachers' Club and anticipates teaching music one day.
Liam's former teacher, Mrs.Turk, said, "Liam is a kind, curious, smart, and compassionate hard worker who has integrity."
CHS Principal Mr. Hamdeh noted, "Liam is an extraordinary young man who works hard every day. We are so proud of his achievement of attaining Eagle Scout. He exemplifies what it takes to be a Mustang!"
As this is his last year in the troop, Liam wants to give back to the community and the people who helped him accomplish his goal of becoming an Eagle Scout.
Liam also added one final word of advice, "Focus on the journey, not the destination, and enjoy what you're doing."
---
Written in collaboration with CHS senior Alexander Grillo
Photo Credit: Alexander Grillo
---