Return to Headlines
Broadcast Program Teacher of the Year 2023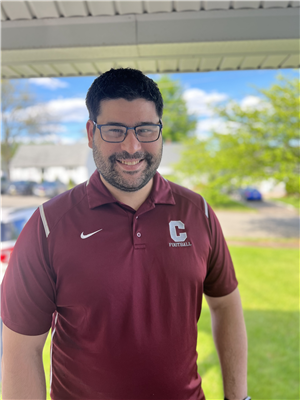 Clifton, NJ, May 5, 2023 - Clifton Public Schools is proud to announce that Mark Mecca, a CHS history teacher and media professional at Clifton High School, has been awarded the prestigious title of Broadcast Teacher of the Year by Mascot Media. Mark's unwavering dedication, hard work, and passion for media education have set him apart as an invaluable asset to the Clifton community and beyond.
As the driving force behind Clifton Public School's innovative media program, Mark has brought countless school events to life, captivating households across the globe. In addition to his role as a history teacher, Mark supervises Clifton High School's Livestream Club, where he imparts his knowledge and expertise in media production to students. Since 2017, Mark has successfully broadcast over 400 live streams, covering a wide range of sporting events and adapting to the challenges of the COVID-19 pandemic in 2020.
The countless hours of time, effort, and expertise Mark invests in these productions are a testament to his dedication to excellence. His ability to coordinate complex broadcasts while providing a nurturing and educational environment for his students is unparalleled.
Superintendent Dr. Danny A. Robertozzi praised Mark's achievements, stating, "Mark Mecca's exceptional commitment to Clifton Public Schools and his students is a shining example of the impact one educator can have on a community. His tireless work in creating and broadcasting memorable moments for our district has brought people together during challenging times and provided our students with invaluable hands-on experience in the media industry."
Mark's work in the rapidly growing media broadcasting industry offers his students a unique opportunity to gain hands-on experience in a real-world setting. Through his guidance, these students have not only become adept at the technical aspects of media production but have also honed their storytelling skills, ensuring that their creations resonate with audiences worldwide.
Clifton Public Schools is proud to celebrate Mark Mecca's exceptional contributions to the field of media education and invites everyone to join us in congratulating him on his well-deserved recognition as Mascot Media's Broadcast Teacher of the Year.
---
CBS News
---
Mascot Media Announcement: Broadcast Teacher of the Year