Return to Headlines
School 11's Amanda Rhodes: Passaic County Teacher of the Year
Clifton Public School District Teacher Amanda Rhodes Named Passaic County Teacher of the Year 2023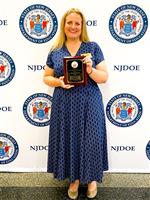 CLIFTON, NJ – August 11, 2023 – The Clifton Public School District proudly announces that Amanda Rhodes, a teacher at School #11, has been named the Passaic County Teacher of the Year. The New Jersey Department of Education announced the award recipients on Thursday, August 10, 2023.
"I applaud the commitment and professionalism of each of the 21 County Teachers of the Year," said Governor Phil Murphy. "If you want to know why New Jersey's public schools are rated as among the best in the nation, look no further than these 21 exemplars of the kind of quality teaching that takes place in every school throughout our state."
Ms. Rhodes' extraordinary contributions to the Clifton Public School District and School #11 have significantly enhanced district and school-wide teacher growth and development, student achievement, and social-emotional learning.
Ms. Rhodes' accomplishments include launching a school-wide framework that supports expectations by providing learning opportunities, leading monthly school-wide celebratory events, piloting a school-wide online incentive reward program, and assessing data to recognize and address specific needs within the school. Additionally, Ms. Rhodes established comprehensive communication protocols between all team members, faculty, students, and families and managed building initiatives and funding for PBSIS (Positive Behavior Support in Schools).
Throughout her tenure at Clifton Public Schools, Ms. Rhodes has also served on several curriculum committees. As a member of the Math Curriculum Committee, she developed supplemental interactive, technology-based teaching activities and lesson plans for the district's fifth-grade teachers. While serving on the Science Curriculum Committee, Ms. Rhodes evaluated and selected a new district science curriculum and collaboratively created a unique accompanying pacing and curriculum guide, extension activities, benchmarks, and study guides while supporting related professional development and implementation.
As a mentor to a non-tenured first-year educator, Ms. Rhodes actively monitored the full implementation of district programs and curriculum in weekly meetings throughout the school year. She advocated for her colleague to ensure she received optimized professional learning opportunities and instructional support from colleagues, district coaches, content area supervisors, and school administration. Ms. Rhodes partnered with district math and ELA coaches to provide robust on-site professional development coaching opportunities for her mentee.
"Amanda Rhodes is an exceptional teacher who has made substantial contributions to our district and school. She is a leader who has brought positivity, innovation, and excellence to her work. Her work in PBSIS, mentorship, and curriculum committees exemplifies the spirit of this honorable recognition. I am thrilled that she has been named Passaic County Governor's Teacher of the Year," said Dr. Danny A. Robertozzi, Superintendent of Schools.
For more information on the 2023-2024 New Jersey County Teachers of the Year, please visit:
https://www.njea.org/meet-new-jerseys-2023-24-county-teachers-of-the-year/
https://www.nj.gov/education/recognition/educators/geoy/ctywin2024/